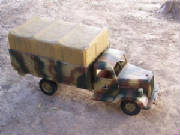 Clearing out all my half-done projects so i can concentrate on the M26 Pershing I am doing for Chamildav and this is the last one. Its a Desimone Opel Blitz. I am quite happy how it came out. Cut out both doors but only the passenger door is made to open (so i don't bust off the steering wheel all the time! lol!). Added headlights and tools from the ones for the Armorhobbies 250 you can get loose at ToyChestandCollectibles.com as well as the front tow hooks. Decals by Johns-stuff. Painted in 3-color camo and the molded on roof (quite good looking as it is textured to look and feel like cloth!) which is painted Africa Mustard. Interior is done in Modern desert sand. Gave it a wash in inexpensive hobby black and burnt umber.

Tim (plasticpanzers)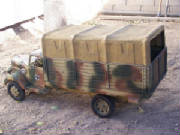 The "canvas" top is actually molded on to the truck box which itself is seperate from the truck bed. Actually I like the top as it has the texture of fabric and alot of small folds and such that make it look quite real (and i can set the truck upside down to work on it! LOL!). I did a windshield but did not like how it came out. Plastic windshields do not last long and have a tendency to scratch and cloud over time.
To prep it I washed it in dish detergent in my bathtub and let it airdry. If you use cloth to dry it you can leave bits of fabric on it that will show up later when you paint it. I used Tamiya dark yellow, red brown, dark green for the outer paint. ModelMaster Africa Mustard for the "cloth" top and modern Desert Sand for the interior. It was primed with Krylon plastic primer after it was washed and dry. Dullcoated later. The detail wash was with simple waterbased ceramic paint black and burnt umber. Those are the original kit wheels with a black/brown wash put in the "spoke" openings while they lay flat on the table and let dry. The wheels are not so bad, a bit thin but not bad.
Its an easy fix on the bowing behind the cab if your using the whole cargobox/cover like I am. My cargo box is screwed onto the bed. You can slip a small block of wood behind the cab as a wedge between the cab and box.