11/11/05
Kanowarrior's note: Abner Spudner posted this vehicle over on the Sixth Division and his version will become a completely different version. Not a 1-1/2 Ton truck at all but a 3/4 ton Ambulance. A very ambitious project and to date a really nice project. Will be looking forward to much more and soon!
------------------------------------------------------------------------------------------------------------
Going to make the knock down version. This will be easier to complete since there are basically straight edges. The 54 would be cooler, but harder to do the curved roof and doors...Also, not intending to put any major over-time into this project...just get it up to speed resembling an ambulance and go play with it!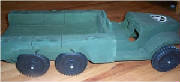 Had this for awhile...and had this planned since I got the Dodge... Thought would make a nice Ambulance. First, marked off where I'll disect the truck...


second--chopped off the "undercarraige"...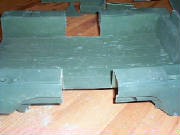 ...then chopped out the two inner sections...this will shorten the truck...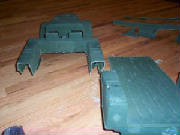 decided I'd cut forward towards the cab...this will allow the next step....this pic shows the two halves...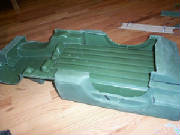 ...the cut out forward floorboard will slide up underneath the seat of the cab...this will be one of my attachment points...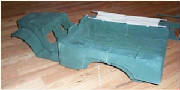 ...now will make supporting attachments under the tool box area, and around the floor of the bed...
at this point, I could stop and call it a WC...but will continue w/ the box for the ambulance...the back sidewalls will have some cosmetic work as well to shorten the width of the rear wheel well....will also make a support frame for the bottom and springs, etc for the wheels....keep checking back---may have this done this century!!!