Japanese Type 92 HMG
Ok, I confess. I'm not really a big Japanese army fan, but I am a big USMC fan and my Marines really needed some Japanese forces to defeat. Unfortunately there were only token offerings of Japanese figures for the 1/6th scale world so I had to make do. This is my custom built machine gun. The Type 92 was one of the most widely used Japanese Heavy Machine Guns used in WWII.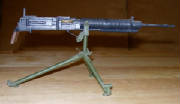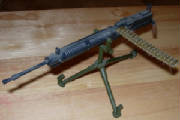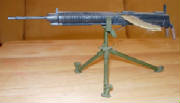 The biggest obstacle to making this weapon was the finned barrel. I used a Hasbro Mortar tube and that gave me the 'finned' look I wanted. The gas return tube is a nylon threaded screw that I glued onto the bottom of the barrel jacket. Another problem is the paint I used for the ammo strip and rounds never set properly. Over time this has resulted in this becoming a 'hair/dust magnet'. With a Husky/wolf mix canine in the house, this has been a pretty big problem! I think that dog explodes hair every time I look at her crooked.
The tripod was built using styrene tubing and scraps. I made wood carry handles for it as well, but I cannot recall where I put those at this time.
I have really good detailed pictures of the ammo crate for this weapon as well and will try to build a couple of those when time permits.