Note: Final production pieces should be shipping in mid April. Preorders will ship first.
3/12/2005
I contacted
inxsone
to work on Production piece #1 and although he does not yet have all the pieces (molds are still being made) like tires and the back end, he has gotten a good start on it. Inxsone has opted to build his own rear bed using real wood instead of using the molded back end. Because of the way this truck is molded, building variations of the Blitz is a terrific possibility.
I will post continuing pictures of this and his updates so you can all see how it's coming along and get some tips to upgrade your own DeSimone trucks!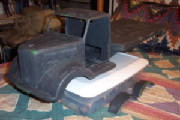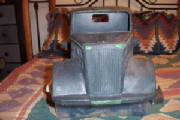 All doors and windows were carefully cut out. The doors are being re-hung later. Note window in the back of the cab was cut out as well. This window was not molded into the final production piece as the rear bed covered that detail up. Still a nice touch though!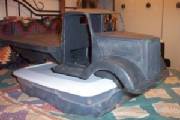 I used a general purpose cutting bit on my Dremel Tool and Med Grit Sanding Drum to smooth things out... The putty I am using is Squadron "Green Stuff" general putty filler sold for plastics, absolutely NO bonding problems, I am hoping to use Tenex Bond to glue things but if that fails will go with regular Cyanoacrylic "super glue"... I will let you know when I get to that point...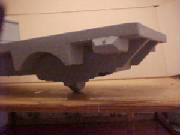 Note in picture above, the original wheel well and fender molded as one.
I cut the entire fender section off leaving a rectangular hole under both sides of the bed that I have to patch on each side... The bottom portion of that piece holds the basic fender shape so I just cut the skirt of plastic carefully off of each one leaving just the original bottom portion that would have sat over the wheels had I left them... The will be mounted later after a little more sanding and smoothing before I remount them using 1/8 inch sheet styrene... I can't do that however till I have the wheels as I need to place them at a decent position to clear the tires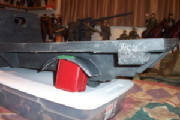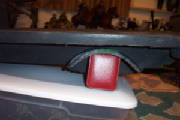 3/29/2005
Here a few more shots of my progress, I just gotta get the doors made and some sort of interior done. So far it has been a bit more than I expected work-wise compared to DS's other stuff but, it should look good when the paint is finished.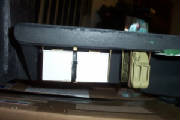 I added a tool box rack and water can rack to the rear of the driver's doors using brass stock. Wheels are fitted into wood dowels that in turn are slipped into Styrene tubes throught the frame, a little sturdier this way.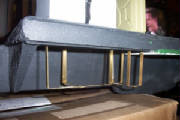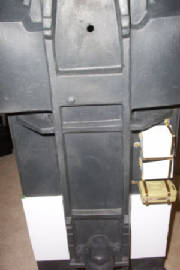 I used 1/8 inch styrene to cover the cut rear wheel wells and will probably use the same for the cab doors. Side rails for the rear bed are balsa wood and plastic.
Finished the rear wood bed sides and am working on the new cab doors and interior, I hope to have it ready for priming this week-end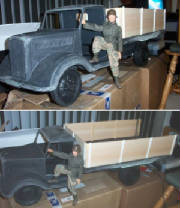 4/10/2005
Here are a few more shots with headlights added (leftover FoA resin pieces), notec light, doors attached, rear bed sides inplace with top ribbing, rear fenders added, rear light posts & plate holder (scratchbuilt with styrene). Tomorrow I prime and start painting.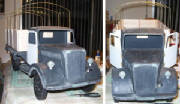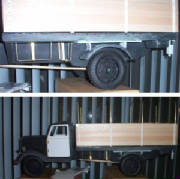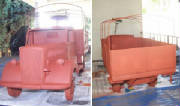 4/11/2005
For the canvas top bows, I used 1/8 inch metal rod, cut and shaped by hand. I then just slipped them into the plastic tube "holders" I built into the side supports like the real ones I copied from photos. Here is a better shot of attachment and some primed photos as well.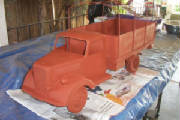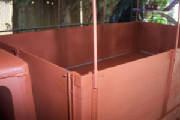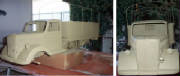 4/12/2005
The headlights are left over FoA resin lights from my Tiger Kits, I replaced those with Panzerwerk Bosch lights so they were just sitting around. The No-tek light is from the accessory panel included with the truck, it wasn't bad so I used it. The last couple of photos give you an idea of were I am going with the rear bed, using camo netting fitted over the ribs. I still have to make up an interior for it and weather it.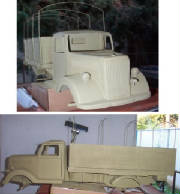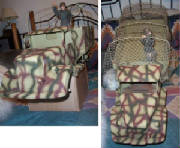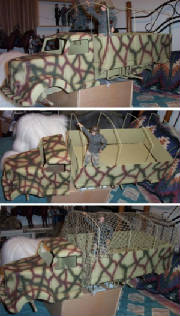 4/16/2005
I did a little work today by painting up the tires (not weathered yet) and adding the insignia to the Blitz. As usual I painted on the marking EXCEPT for the license plate numbers and the National Marking on the cab doors, those are from John's Stuff. I made it a Panzer Supply Vehicle, 2nd Unit, 1st SS LAH Division truck. I also painted on the "width markings" (white borders on the front bumper/fenders and rear). All the white will be come subdued after I add my weathering and overspray.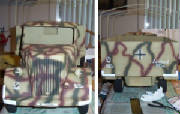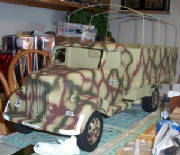 5/11/2005
I still have to attach the rear signals & License plate, a jack and block that will go under the bed behind the passenger door area, a fire extinguisher inside by the drivers seat, "width posts" on the front fenders, and weather and attach the front windshield to give it that "been on the road" look.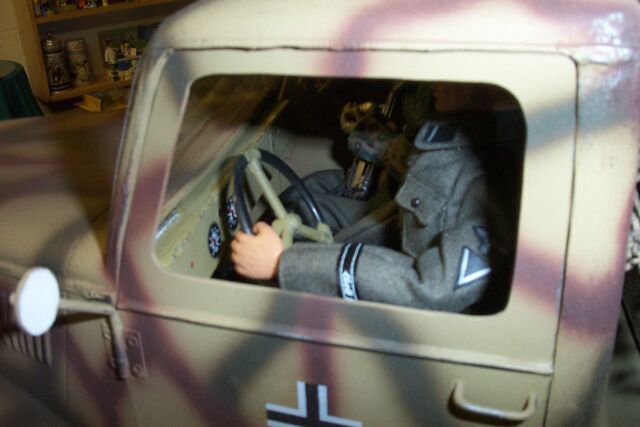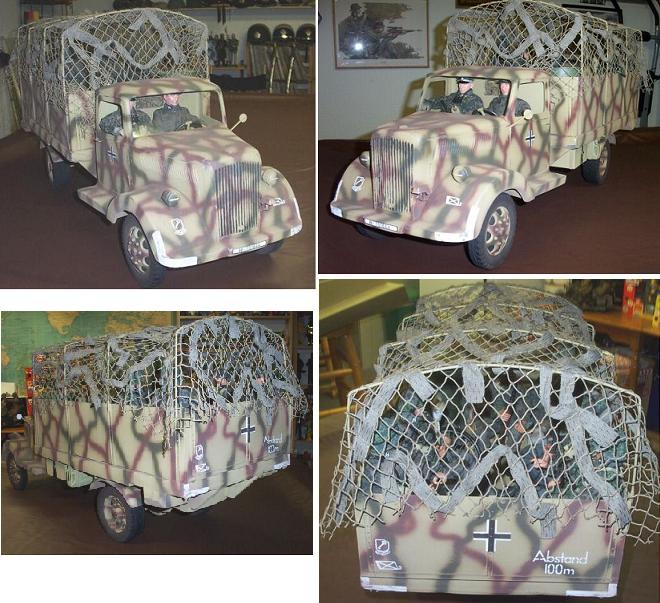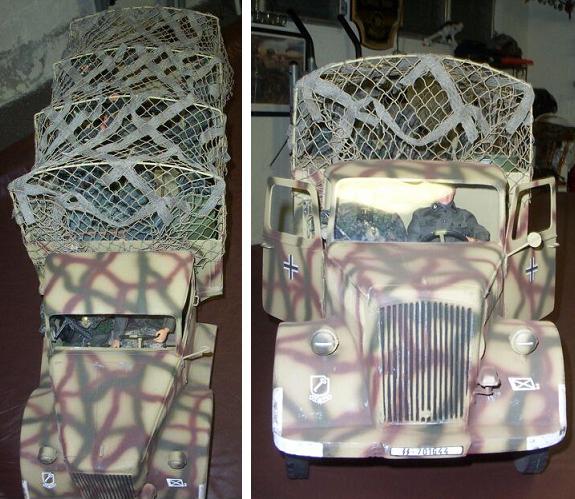 The bed although hard to see under the camo netting is loaded with fuel drums, a "rocket" in crate, a bike and squad of 6 SS troopers to go with the officer riding shotgun.