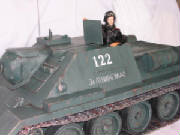 Hello Commrades,
SU-85 FOR LENNINGRAD! Battagration 1944

This started life as a JD T-34. It uses the JD wheels and modified JD tracks. The rest is made from sheet syreen, PVC, Styrofoam, clay, brass rods,linolium nails and doll house hinges.

I cut out the turret ring and down the front of the tank. I made cardboard templates that I taped together to make sure of the fit and the look. Using the templates, I cut and made the new upper body out of layered 1/16th styreen. Two layers 1/8th thick total. I saved and attached the original drivers hatch. The top hatches (loaders and commanders) open with doll house hinges. The drivers does not...yet. The gas tanks were made from styreen.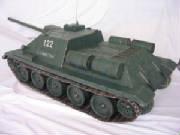 The gun mantlet was made with Styrofoam blocks and half circles. It was then covered lightly in air dry clay and a styreen cap.

The track problem was solved by ordering an extra set of JD T-34 tracks for $25. I joined the tracks buy gluing evergreen brand pre-cut styreen strips on the outside of the track, skipping every other gap. On the inside of the tracks I cut thin styreen to cover the texture of the JD tracks. The wheels were attached to the body with rods to compensate for the wider tracks (3.5 inches) New fenders were also constructed out of styreen.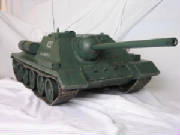 I used matte Mode Podge (GASP!!!) on both the tracks and the body. There are many reasons why. It makes it easier to paint, It helps bind/glue the many parts of the tracks stick together, and it gives the styreen and gun mantlet that armored texture of older tanks.

The tow hooks, exhaust, and spare tracks up front were made from sytreen. Grab handles were made from brass rods. The spot light came from the 21C humvee fire truck... Sorry son I need it and it is going to a great cause...BUT DAD!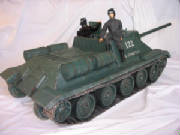 Spray painted using paint from Walmart. Krylon dark green (the kind of paint you use to paint plastic lawn furniture) with and over spray of Hunter green. Once the paint has cured a light sanding using very fine sand paper. It is weathered using black washes, steel, rust, and a light wash of Tamyia Buff. All sprayed with a dull coat to finish it off.

Photography. I apologize for the ad hoc background. 2.5 feet of snow and temps in the single digits made it tough for an outside shoot (especially for a summer 1944 offensive). Oh well can't wait for the summer. I made Borris, Yuri, Misha, and Sasha get off and walk. Without an out door back drop it was just to much...

Cheers
Commrade MajorTom