Eduardo is one collector who is very spirited and his work gets better and better. I always enjoy seeing his latest work! To see more of this tank, follow this link.
Tank #14
41st Guards Tank Brigade of the
7th Mechanized Corp, Kusrsk 1943
I will not list evrything made to the stock piece as you can see the images for yourself.
Highlights of the work follows.
Tracks were casted by John Smith(veritas).
The wheels were attached to rods running across the body.Needed to create more separation for the tracks to fit correctly.
I made some slots in the wheels to make room for the horns in the tracks. removed the horns fo rthe pieces that curve around the idler and power wheels.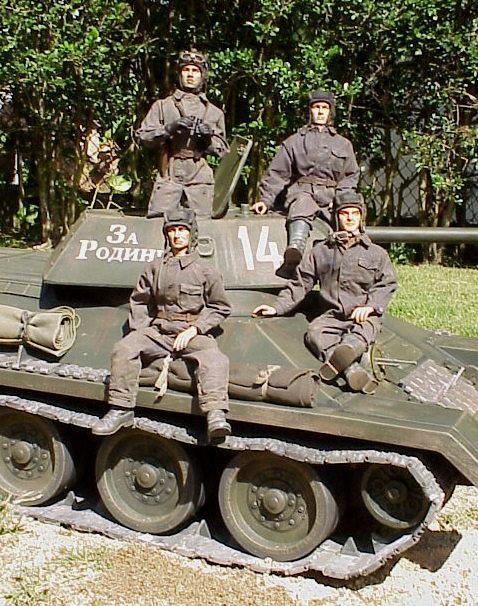 Used Tamiya acrylic paints throughout.
Used airbrush for some shading, particularly around rivets, but mostly used dry brushing and washes.
Made the tow cable from scratch, it is the real deal made of some nasty wire!
Around the gun mantlet I placed a piece of styrene to make it look like a different piece, with different texture and painted to create the illution of a different piece.
Used paint and dry brushing to create the optical illusion of the turret ring being attached to the turret and not to the tanks structure.
Used a permanent magic marker to paint a heavy black line where the seam should be.
Made templates for the vehicle number, unit marking and patriotic slogan. Transfered the outline with permanent magic marker and then painted the markings with Testors enamels to avoid lifting any of the acrylic finish and avoid any bleeding.
Finally went over with a dirty wash to create streaks. Also went over the markings with dry brushing to weather them.
Used the "T-34 In Action" (Armor #20)Squadron and New V anguard Osprey T34 booklets as reference.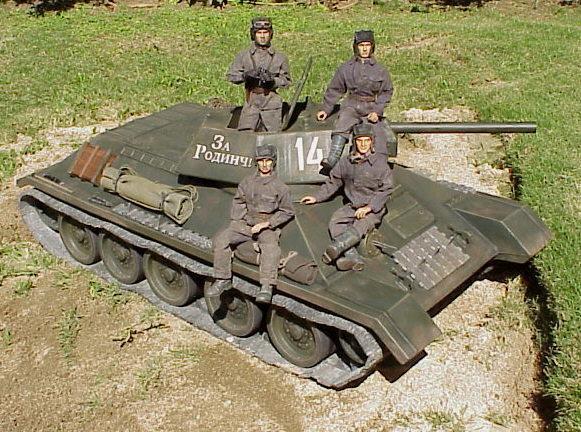 Placed the little hooks on top of the turret,attached the turret hatch with small hinges, made the tow hooks in the front glacis from scratch(stryrene) and also replaced the MG mount making a ring with rivets and a customized BAR barrel as the MG.
Added most of the equipment using wire loops, just in case I want to change some of the equipment in the future.