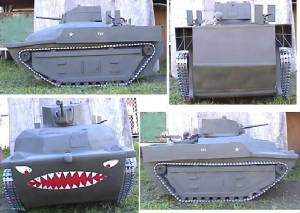 Commentary from Armand (LaughingGravy2)
Tim(Loeb)/Plasticpanzers asked me to go over and check out his latest project yesterday. When I arrived, he showed me the completed DeSimone AMTRAC with Stuart turret that he had been collaborating on with Mac. With these two; the "acquisitions expert" and the "motorpool genius" it had indeed turned out every bit as fantastic as I had imagined. I had seen the WIP whenever I went to Tim's, and always felt a bit jealous at how cool it was going to be.

Sometimes in life, we reach a point where things change. At these times, we question our motives, our worth and even our dedication. Then, something will happen. Whether real or figuratively, that brush salesman will knock on your door just as you're poised ready to drop the toaster in the bathtub you're standing in. This is what happened to me yesterday. These two goofs, these two dirty dogs, these two fine gentlemen.....they gave me this vehicle.

I couldn't stop shaking for almost a half hour. I've never been good at receiving gifts, and have NEVER received anything like this. A beautiful sentiment, printed on nice parchment-like paper, accompanied the vehicle, and reading it still puts a lump in my throat. I can't say thank you enough. They will both receive some surprise gift in the future, but it won't begin to scratch the surface.

I reserve a place at the bottom of the deserving list, but claim the top place on the appreciation list. This hobby has provided me with valued friendships and a sense of community. I thank Tim and Mac, and all of those who care to call themselves my friend. You have renewed my faith in 1/6, and for that I am eternally grateful.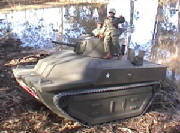 A word from Tim Loeb
It was a long haul to get this the "Dingus" done! Mac and I have been consipring for quite a while on this. Mac had supplied the JD LVT and Stuart parts while I did the acutal conversion. JDs LVT is a fine piece and even floats (!) but unfortunatly is slightly underscale and not quite accurate in design i had to make some compromises in how i did the conversion. Throw in the Panther project, pnumonia, and a broken rib, and this has taken alot longer to get to LG2 than i wanted but the genial hounding by Mac helped to "motivate" me! (LOL!) to get 'er done! Glad you like it LG! You deserve it fella! You have alot more friends and well wishers out there than you can imagine!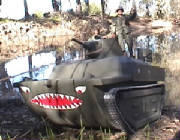 More from Mac
I've been waiting for months to see the "Dingus" completed. I was a constant thorn in poor Tim's side (is it done yet, is it done yet?). I was dying to see my evil plan come to fruition. You deserve it LG2 for hosting some really cool gatherings. Thanks Tim (Loeb), for turning out such a cool piece.