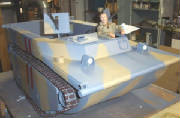 This was my second Desimone vehicle and they are fun to work on, but then again, they can be a bear to work on as well.
When I did the Desimone Hetzer, I primed the whole thing with a Red Devil Appliance Epoxy which was recomended to me by someone else who was working on one at the time. I then applied my paint over it. On the LVT, I simply gave the whole vehicle an alcohol wash then applied the paint with no primer. Other than the paint being absorbed in some places more than others, it's seems to be OK.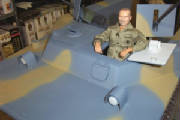 The camo comes from Concords US Amtracs and Amphibians at War 1941-45. On the front cover is a black and white picture of a LVT(A)-4 of the Marine 2nd Armored Amphibian Battalion on Tinian with a accompanying color plate in this camo. It very well may not have been on the troop carrier LVT 4's, but I just liked the overall look of it. It was just something different from the other Desimone LVT's that have been done.